If the season was to end now Sunbury would be champions of the South Middlesex League .. but, unfortunately, most of our rivals have 3 or more games in hand! We have played all other teams and have won 3 and lost 4 – not a bad return, and better than recent seasons. Our next match is a home fixture against Bishop Duppas on Sunday 10th. It'd be nice to stop them doing the double over us!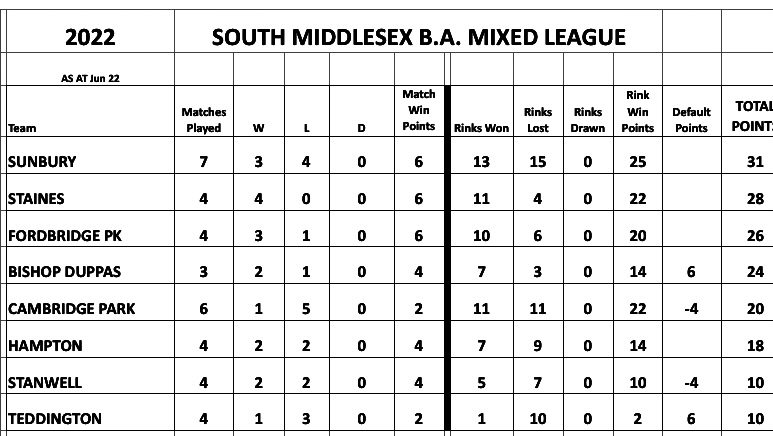 There was a dramatic finish to the latest round of matches in the Friday Morning League. Diane's team, captained by Anita on the day, were one point behind on the final end but holding two shots. TonyL had the final bowl of the match for Karen's team and magically wicked off the barrage of bowls in front and rolled towards the jack to take the game. After 3 games for each team, this leaves the league nicely balanced with 3 teams on 2 wins and the other 3 with 1 win.
In the last of the county competitions this week Anita & Bob had a convincing victory over a pair from Bishop Duppas on Friday and progress into the 6th round against the Ashford pair who defeated AlanP & Tracy. The Mens Senior Fours put up a good fight against current champions at Masonians and even scored a 5 on one end – after the shot of the match from skip Dennis to nudge the jack into the the teams' pack of woods!