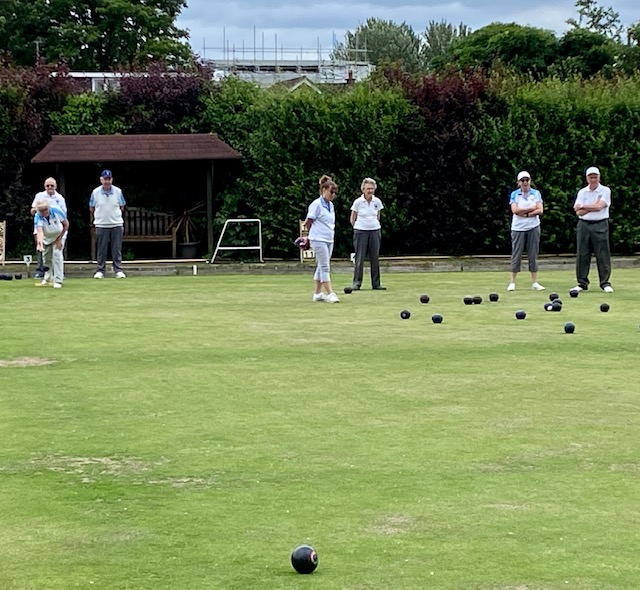 We bounced back from a 3-6 loss against Stanwell at the weekend with a 10-0 victory against Teddington in Thursday's South Middlesex League match. Sunbury fell behind on 3 rinks early on but all came good by the end with wins on all 4 rinks. With 2 points for each win and a further 2 for the most shots overall we picked up all 10 points. At least we were more hospitable in the subsequent raffle with Teddington sharing the prizes!
In Sunday's match at Stanwell we actually won on 2 rinks out of 4 but lost on overall shots and picked up a penalty for fielding an all-male rink .. don't you love the rules?!
It's very early into the season but Sunbury have a healthy record of played 3 – won 2. The next league match is Sat 11th June but before that we have a series of 4 friendlies starting at Hersham on Sunday 29th May. Our captain has found it difficult to get players for some matches , especially away games, so please do try and make her life easier by signing up for games when you can. The sheets with all the details are in the clubhouse and everyone is encouraged to play. New bowlers are especially welcome as it's a good introduction to team bowls and a very pleasant way to spend an afternoon. All matches are played at 2:30pm – most at the weekends and some midweek. The matches usually finish around 5pm with some refreshments and a raffle draw.
In the Middlesex competitions this week we put up some good resistance but lost out to some strong teams. The Women's Triples of Karen, Nikki & Eileen lost to a Cambridge Park team containing current county bowlers. The Mens Double Fours led by Roger lost to Ashford. Both matches were played on Tuesday 24th.
Here's how the coming week or so is looking ..
Sat 28th May 11am –  Mixed 2-wood Pairs competition – 16 players in the draw
Sun 29th May 2:30pm – Hersham v Sunbury (friendly)
Mon 30th May 6pm – Training session for new bowlers
Tues 31st May 6pm – Club Night and training for new bowlers
Wed 1st June 2:30pm – Oatlands v Sunbury (friendly)
Sat 4th June 2:30pm – Sunbury v Esher (friendly)