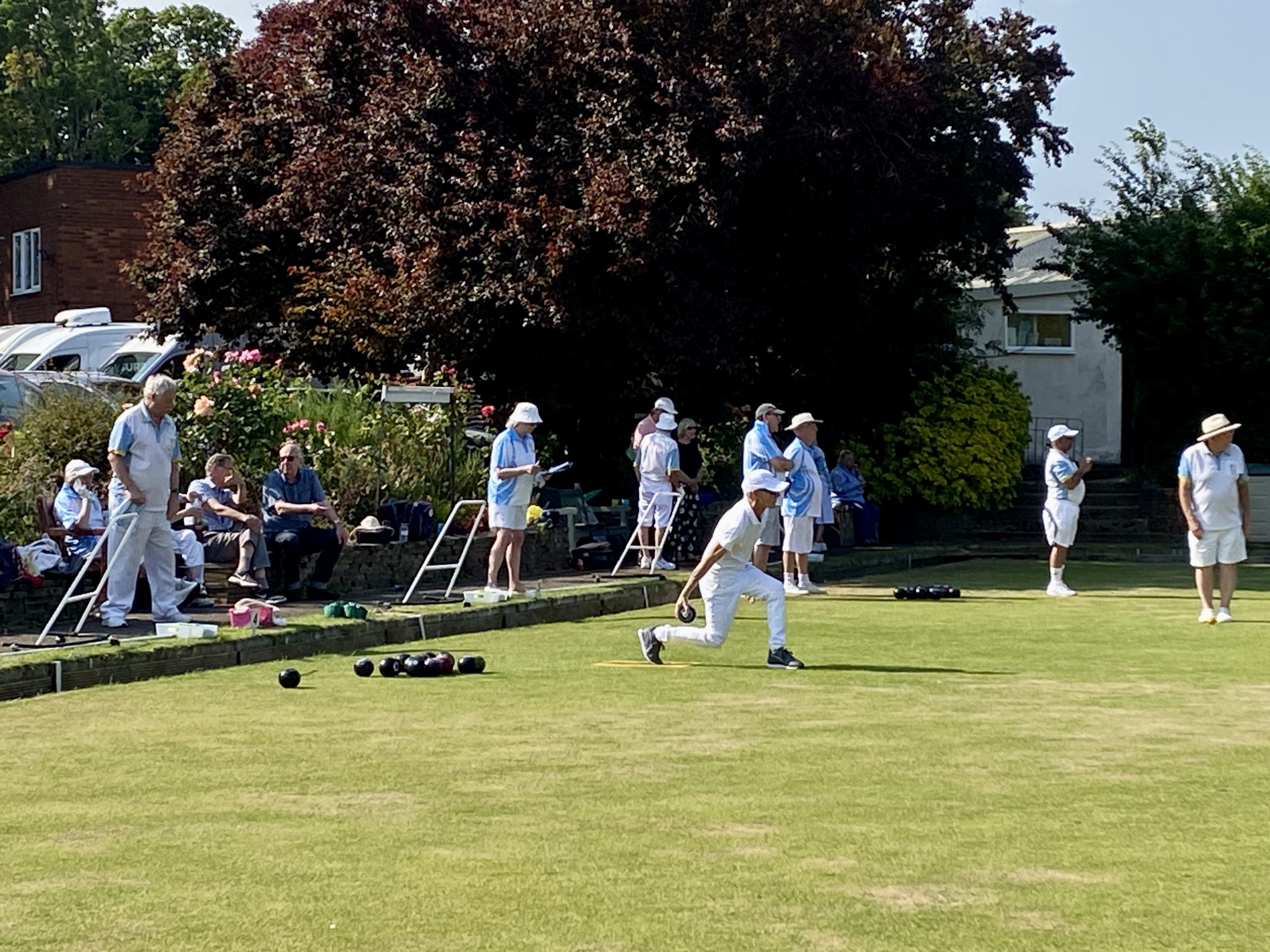 It was good to see another of our new bowlers in action in Saturday's team friendly with Cambridge Park .. well done Neil! Things might not have gone Sunbury's way, losing on all 3 rinks, but we were up against an experienced team looking to avenge the previous encounter.
At a balmy Ashford on Sunday we had four players (Anita, Eileen, Karen & Tracy) representing Sunbury in the Middlesex Women's 2-woods.  Three won through to the qualifying round for the last 16 in the county, but despite brave performances in very close games it wasn't to be. The heat took it's toll on some and they all deserve a well-earned rest in a darkened room!
The Friday Morning League saw its second round of matches on Friday 9th. There were wins (again) for teams managed by Alan, Alison and Diane, so they could be the teams to beat this season. The next round on Friday 16th sees Alison v Diane so one team will lose their 100%  record!
Just a reminder that Club Night on Tuesday will be restricted to 4 rinks. We realise you've come accustomed to playing triples but it may have to be fours on this occasion. I'm sure you'll join me in wishing Tracy (and Karen at 3pm) all the best in her Middlesex Unbadged Singles match starting around 6pm, and please be mindful when moving across the head when your games are done.
Next weekend we turn our attention to a team match in the South Middlesex League (SML), hosting 2nd placed Fordbridge Park on Saturday 17th. There is a surfeit of names listed so captain Di has a few selection issues to sort out, something she hasn't been used to in recent times!
The following day on Sunday 18th we have the second of this season's Club Competitions .. the Mixed 2-woods. There are currently 17 entries listed so please get in touch if your name is missing, etc..
Alan; Andrea; Anita; BobH; Chris; Colin; David; Eileen; Jenny; John; Karen; Keith; Liam; Richard; Roger; Tarun; Tracy
Other entries will be accepted up to Wednesday so please do get in touch if you'd like to play. It's planned to be played in groups with a series of short games to determine who qualifies for the semi-finals. Everyone is guaranteed to play a number of times as it's not a knock-out until the semis. As it's a singles competition I'll be asking for markers on the day and it's expected to run from 10:30am-3pm with a lunch break around 12:30pm. For more info please get in touch .. I hope to be down on Tuesday evening.
Finally, here are the draws for our Club Competitions .. all complaints will be directed to the folk who drew the lots!