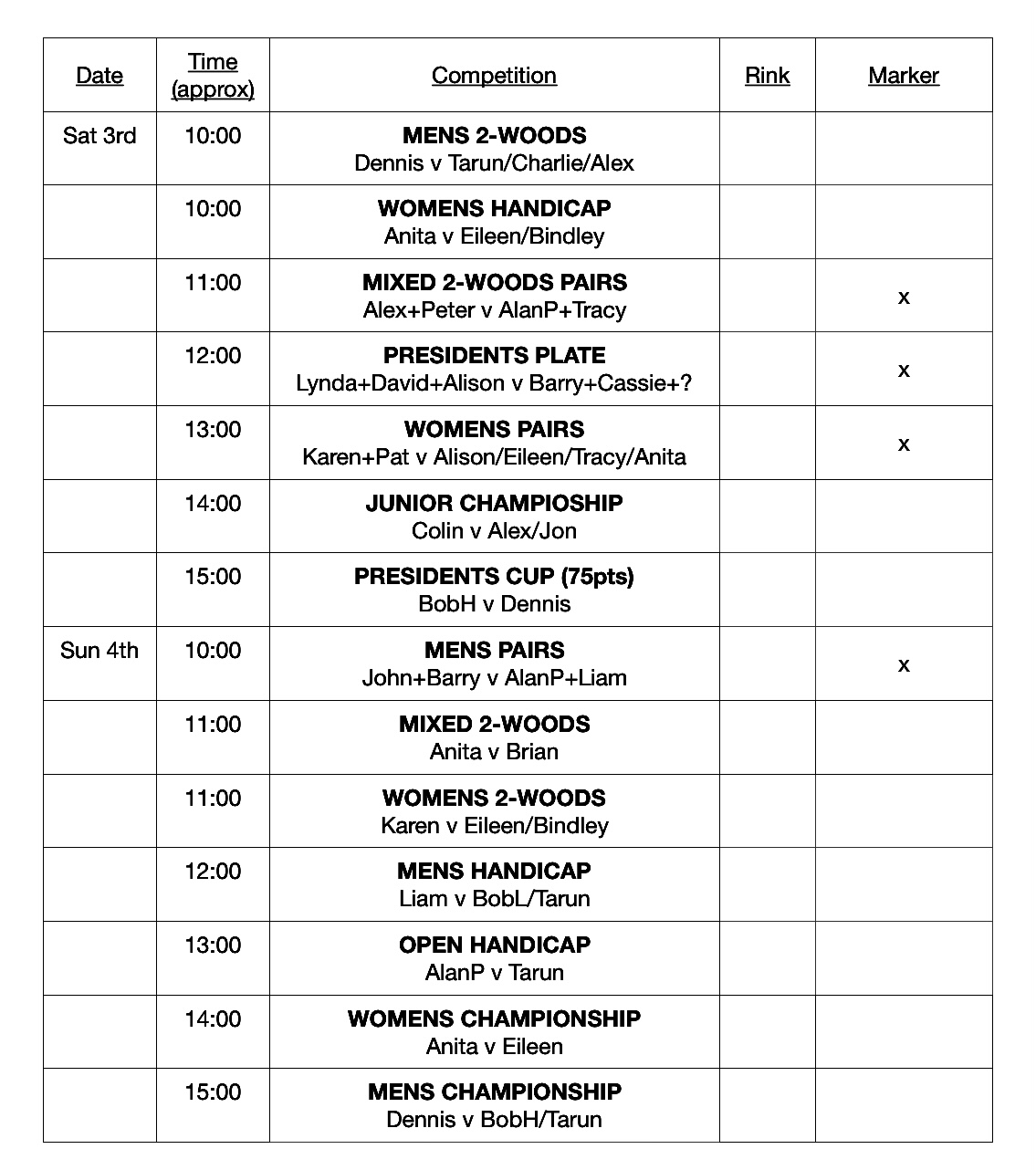 It's the final week before the climax of this season's Club Competitions – this is the provisional schedule. Some semi-finals are due to be played this week and some folk may end up in multiple finals so please check back here over the coming days .. Finals 2022
It may have been a close finish to Friday Morning League with two teams finishing on the same points but Nikki's team were decisive winners when overall shots were counted. Congratulations to Nikki, Dennis, Chris, Gary, Lynda, Yvonne & Colin. Thanks to Eileen for organising it and arranging the weather for us .. only one postponement and, unlike like last year, it wasn't rain-related!
The penultimate team friendly of the season was played at Esher on Saturday 27th. We had 5 new bowlers representing Sunbury and they didn't disappoint, in fact Sunbury won on 3 rinks and drew on the other. Thanks are due to BobH for his first time as acting captain and also to BobL for coming to Esher's rescue as a late replacement for one of their players – it shows the true meaning of a friendly! The last team friendly of the season is Sunday 18th Sep at Chertsey but before that we have our last South Middlesex League match on Wed 8th Sep at Teddington. Please enter your names on the team sheets if you want to play in either. There is also a sign-up sheet for the keenly-fought Men vs Women match on Sat 17th Sep.
Looking ahead to the winter, Egham Bowls have a couple of open days for indoor bowling on 24-25th Sep anytime from 10am-4pm. If you attend and subsequently join, please mention Sunbury Bowls as we will receive a small payment via the sponsorship scheme they have set up. There are of course other indoor bowls clubs available in the area at Hounslow and Cambridge Park for example.