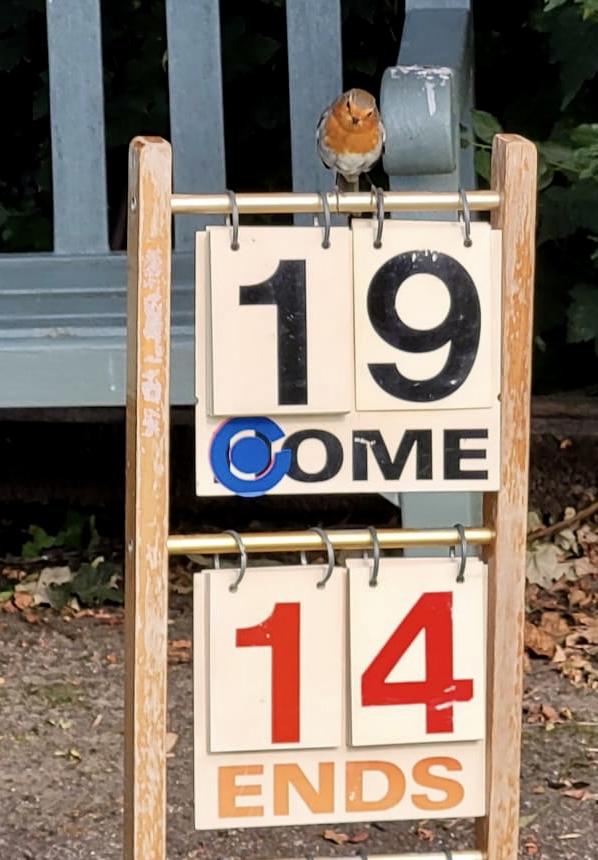 All season we've been delighted by the ever-presence of our most loyal supporter and spectator. He/she always welcome us with a chirp or two and sits on the lawnmower after it's wheeled out of the shed. I'm sure they'd make a great bowler given the chance (latest photo courtesy of John).
We put up a good performance in our latest South Middlesex match at Teddington, winning on two rinks and losing on the other two. Unfortunately the overall points score went against us (no thanks to the new Mens Champion!) and it went down as a 6-4 loss. We have two more opportunities to end the season on a high.
We have the upcoming Men v Women match on the 18th followed by barbecue – please add your names to the list in the club house or contact Nikki. Everyone is  welcome.
A little further off is the annual Lunch and Presentation of Awards on Fri 19th Nov at Fulwell Golf Club – there is a sign-up sheet in the club house or let Cassie know if you'd like to come. All members and significant others are welcome.
Tues 14th 5pm – Club-night Roll-up
Sat 18th 2:30pm – Men v Women
Sat 18th 5:30pm – BBQ
Sun 19th 2:30pm – Sunbury v Chertsey